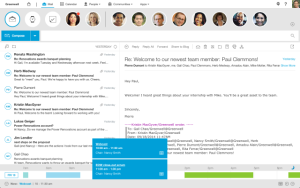 There's a lot of people in the IBM user/partner community (in the old days lovingly known as the Lotus/Domino community) who have been asking one single question for quite some time now: Where is IBM heading?
The big thing at the last Lotusphere in history, back in Orlando in January, was IBM Verse. The new email solution that would blow all other email solutions out of the water. Then, after a few months, IBM Verse was opened in a beta release. To say we were underwhelmed would be an understatement.
Here's why:
You could not import another email account into IBM Verse, you had to start from scratch with a new IBM Verse address. This makes it much harder to test the analyzer that would help you sort your mail, what is important to you and who you are most in contact with
You could not connect IBM Verse to other email and social media solutions to import contacts
The main point of IBM Verse is the close integration you will have with IBM Connections (IBM's collaboration solution for business), IBM Sametime (chat, video and telephony) and between email and calendar. Sadly, since you can't integrate this IBM Verse beta version with the servers at work you have absolutely no chance of testing this full integration
The chat service is only for the beta version of IBM verse, rendering the chat client useless since you don't have anyone to chat with
If you click the calendar icon you are not given a fresh new and modern calendar interface, instead you are taken to the INotes calendar (web-interface for the Domino mail)
Some of the icons are incomprehensible until you hover your mouse pointer over it. An umbrella for the "Out of office?" Makes sense if you live here in Molde and tt's summer, I guess…
Compare this to Microsoft's new outlook.com solution:
A slick, modern and new web interface which is very easy to understand and use
You can use an existing email account inside outlook.com with no problem and it will help you to identify important mail and contacts. Personally I tested with my gmail account
You can import contacts from Facebook, LinkedIn, flickr, Twitter and a whole lot of other solutions
You can chat with and make to with any Skype user
You can chat with your Facebook contacts, MSN contacts (yes, really), Google chat contacts and several other chat services
Icons, colors and interface makes sense and is easy to understand
IBM Verse started out as IBM Notes 10, but the design team decided that improving the good old Notes client, which takes hundreds of gigabytes on your PC, was not the future.
I agree wholeheartedly with that sentiment. Even if I have to say that Outlook 2016 is a really, really good client (I don't care what you say, Outlook has never been a good mail client, but the calendar became good in Outlook 2010), there is no point in moving from one dinosaur to another dinosaur. The future of email is, as with most other collaboration solutions, in the web and with mobile apps.
And if IBM want their customers to choose their email solutions and integrate it with their collaboration solutions, they must do something. Fast.
Stay tuned for Part 2.